When it comes to the functionality and overall look of your sink area, the kitchen tap plays a big part. However… with so many options available in the market, it can be overwhelming to decide which one to go for.
Here are 6 important tips for choosing the OUR right kitchen
KB TEK
FAUCET:
1. Take Faucet Design Into Consideration: Consider your faucet design and choose a tap that complements it. There are various designs available, from vintage to modern, and different finishes, such as chrome or brushed nickel.
2. Functionality: How would you use your sink? Think about it thoroughly and choose a tap that meets your needs. Consider the height, spout reach, and whether you want a pull-down or pull-out spray head.
3. Tap Location: While most taps are used for washing and filling water, some are connected to dishwashers, requiring additional space below the tap. Also, take into consideration of the distance between the tap spout and the wall.
4. Type of Sink You Have: Choose a kitchen tap that matches the size and strength of your sink for a secure installation. Consider the sink type (countertop or wall-mounted) and the presence of pre-drilled holes for a proper fit during tap selection.
5. Sustainability: Many people nowadays are opting for sustainable options like one-way tap or touchless faucets that use sensors to detect human presence. It has an automatic water shut-off feature and this helps a lot with water savings.
6. Budget: While some may assume that automated kitchen taps are expensive, the cost has significantly decreased in recent years. Depending on your needs, some of these taps can be affordable and value for money.
Authorised Manufacturer:
Jiangmen Focus Kitchen & Bathroom Co., Ltd
Tel: 86 750 8225225
website: www.focus-kb.com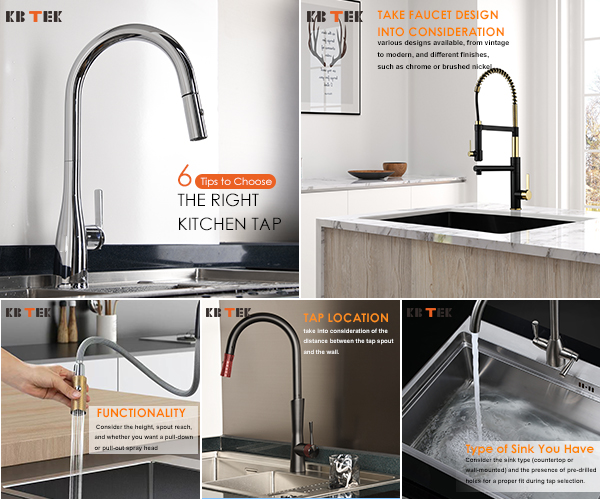 #faucet
#kitchentap
#watertap
#sink
#kitchentap
#faucet
#kitchendesign
#kitchenrenovation
#tap
#faucetdesign